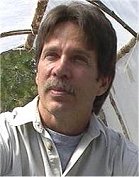 Eugene P. Ward, 58, died February 8, 2006 at his home in Antioch, California after losing his battle with cancer. He served in the U.S. Air Force for 8 years. Gene is best known for his walk across America, touching and meeting many people. He was also a wilderness survival trainer, traveling across America giving seminars and clinics to Boy Scouts, youth groups, hunters and even military personnel. Gene created and produced survival DVDs and made and assembled personal survival kits marketed through various sporting goods stores and through his website. He is survived by his loving wife of 20 years, Ruth (Cooper); his parents, Richard and Barbara Ward of Asotin, WA; brothers; Michael Ward (Micheline), Larry Ward (Linda), James Ward (Giselle) of WA; sister, Kathy Meek (Jerry) of WA; sons, Monte Syrie (Sherry), William Syrie (Susan) of WA; step-son, Scott Andre (Jennifer) of OH; step-daughter, Jessica Andre (Mark) of NC, also survived by 11 grandchildren. A private memorial service was held on February 18, 2006 in Seattle, WA.
Gene Ward found his niche as a motivational speaker and survival trainer during his 1984-85 Walk Across America. Over the course of this 3,100 mile, 427 day solo trek, Gene talked to thousands of people interested in learning how to survive in the outdoors. From his home in the Bay Area of California, he operated Survival and Outdoor Safety a business dedicated to teaching survival in the outdoors in a simplified and straight forward approach that dramatically and effectively improved anyone's survival chances regardless of their skill level. He realized that beginners could survive just as easily as a trained professional guide if they were prepared with a small survival kit. As Gene put it, "Being prepared cannot be overstated to someone who is about to spend an unexpected night in the wilderness."

Gene's speaking appearances were engaging and entertaining for audiences of all ages. Even the most unruly group of school children would sit still for Gene's talks on how to use a variety of simple tools to survive an unexpected stay in the outdoors.
For his business, Gene drew on a lifetime of rich experience. For eight years, beginning in 1967, he served as an instructor with the elite US Air Force global survival training staff. He trained USAF personnel how to survive in a wide variety of environments, including arctic, jungle, tropics, desert, sea and mountain.

During his Walk Across America, Gene met and learned from some of the most recognized names in the survival business: Larry D. Olsen, Tom Brown, Jr., and Papa Bear Whitmore. Following his national trek, Gene began working with troubled teens, helping them to reach maturity through wilderness training and exposure to outdoor survival skills. During this time, he served as a guide and instructor for the School of Urban and Wilderness Survival in Southern Idaho and the Circle S Recovery Ranch for boys and young men in Washington State.

As he met with school, church and business groups, Gene noticed that more and more people were becoming interested in outdoor survival and they had little knowledge of what skills or tools to use, or where to gain that information. Gene vowed to fill that void. In 1994, he launched his business: Survival and Outdoor Safety. The business fulfilled Gene's goal to share his life saving skills with that segment of our society that needs it the most.

Wherever he was asked to speak, Gene shared his experiences and encouraged people to overcome their fears and pursue their dreams.
Gene's mission is being carried on through his wife Ruth and a staff of highly-trained experts in the field.